BLACK VALLEY Feminized Cannabis Seeds
Plant type
Dominant Indica
Indoor flowering
60 to70 days
Outdoor flowering
October
Producción
High
Effect
Strong
Flavor
Fruity
From the fertile mountain ranges of the Himalayas, this train collision will take you to the depths of the KUSH valleys. It is a cross between two very stable indica..

Política de seguridad (editar con el módulo Información de seguridad y confianza para el cliente)

Discreet packaging

Possibility of secret shipping
Excellent for pain
Growmed 2013
First prize
resins
Copa Catalunya Grows Amateur 2012
BLACK VALLEY, best for pain.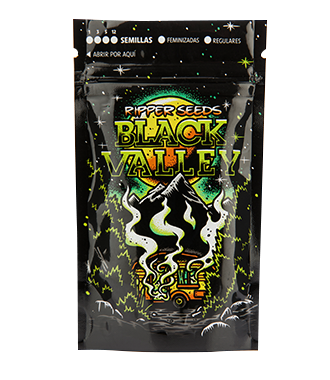 Our DOUBLE G variety has pollinated our selection of vanilla-flavored Kush with which we have achieved a real treat for lovers of Kush and the best hash in the world. Its effect is relaxing, physical, powerful and very durable with great therapeutic value for its instantaneous effectiveness. Its two 100% Indica strains make it necessary a stage of greater vegetative and higher amounts of nutrients to give rise to the formation of its large and tight buds with intense Afghan aromas..
4 other products in the same category: