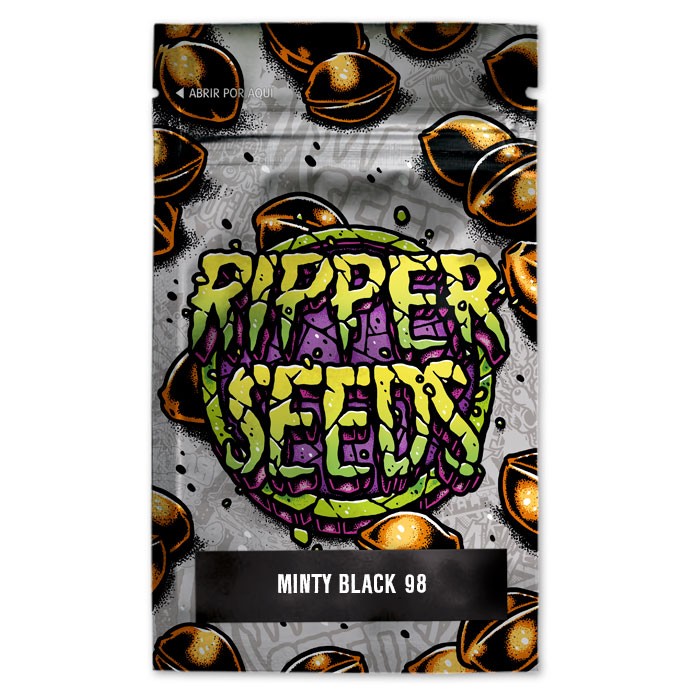  
Minty Black 98
Plant type
10% Sativa 90% Indica
Indoor flowering days
55-60 days
Outdoor flowering
Late September
Production
Very High
Effect
Very Strong
Taste
Fruity
Introducing the limited edition from Ripper Seeds: Minty Black 98! This extraordinary strain is the result of an exceptional cross between Black Domina and Kush Mints

Discreet packaging

Possibility of secret shipping
Introducing the limited edition from Ripper Seeds: Minty Black 98! This extraordinary strain is the result of an exceptional cross between Black Domina and Kush Mints, offering a unique experience in terms of flavor and effects. Minty Black 98 will delight your senses with its captivating aroma, merging earthy and sweet notes with subtle hints of fresh mint.
Its buds, dense and covered in resinous trichomes, exhibit a visually stunning appearance, with dark tones and strokes of deep purple. When consumed, Minty Black 98 delivers an intense and complex flavor, combining earthy and sweet notes with a refreshing touch of mint.
This hybrid strain is well-balanced in terms of Indica-Sativa dominance and provides a potent and relaxing effect. You will experience a gentle euphoria and deep relaxation, relieving both physical and mental tensions. Its therapeutic properties are highly valued for their ability to alleviate stress, anxiety, and insomnia. Don't miss out on this limited edition from Ripper Seeds, designed for those seeking a sophisticated and satisfying cannabis experience. Get ready to immerse yourself in a world of exceptional flavors and effects with Minty Black 98!
4 other products in the same category: