In a continuous effort to perfect our flavor catalog, the Ripper Seeds team realized that two of our strains had a very similar terpene profile. Our previous Lemon Ice 1.0 was a lemon Skunk (lemon Haze phenotype) x Afghani cross that we had given away at some fairs and events and that we later offered through our website. This strain offered a terpene profile very similar to our Ripper Haze so we were waiting to find something different to improve it. After several years of testing different varieties, some elite clones with a much more marked and dominant terpene profile came into our hands that we decided to incorporate into our catalog. It is here when we decided to replace the previous Lemon Ice with a new, more current and improved version, with a high concentration of limonene, with a faster flowering than the previous version and that obtained the terpene of the Og lemon instead of a lemon skunk with a haze undertone.
Lemon Warrior Og
Lemon Warrior Og is a cut of Lemon Og Kush from DNA genetics selected by Warrior extractions. A phenotype that comes from Lemon Skunk Las Vegas and Og # 18 specially selected for extractions for its return and pungent terpene profile. A plant with a very good ratio between flowers and leaves that facilitates manicure tasks.
Animal Cookies
Animal cookies is a hybrid of Girl Scout cookies and Fire Og Bx3. The specimen used is a cookie-dominant phenotype, but the presence of Fire Og Bx3 permeates its offspring, providing typical Og characteristics. Animal cookies stands out for its fast and vigorous growth and for its production of hard and compact flowers that will change their tone at the end of flowering towards dark green and purple. A plant with a great "Bag appeal" that needs little feeding to show its talent.
Lemon Ice 2.0
Lemon Ice 2.0 is a cross of Lemon Warrior Og x Animal Cookies reversed. With Lemon 2.0 you will get that chemical citric terpene far removed from the classic Amnesia Haze or Super Silver. A variant of the typical dry og much more complete and complex. In Lemon Ice 2.0, the most pungent citrus flavor is combined with gas / cookie, with a dominance of Lemon Og phenotypes. A plant with an Og structure but with more robust branches than the classic Og lines. Its flowering period ranges from 65-70 days indoors and mid-October outdoors.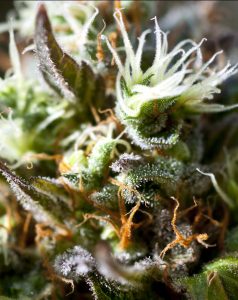 Vegetative From 2 to 4 weeks
Genotype 70% Indica 30% Sativa
Indoor flowering 65-70 days
Outdoor flowering Mid October
Production Media
Effect Blunt