The Haze marijuana strain was born in the early 70s in Santa Cruz, California , and owes its name to the Haze brothers, who grew and crossed with different varieties of marijuana from Colombia (Columbian Gold), Mexico (Acapulco Gold), India and Thailand. In another article we had talked about origin of Skunk and Sam The Skunkman one of the most iconic characters in the history of modern marijuana who moved to the Netherlands and that changed the course of modern marijuana history. Well, in this chapter, the stories intersect and have similar destinies since Sam The Skunkman was a neighbor of the Haze brothers and provided them with various types of seeds for their crosses and the creation of other marijuana hybrids . Haze and J. Haze wanted to get a hybrid that was 100% Sativa and went through an accumulation of crosses until they found what they were looking for. To do this, they began by crossing a pure strain called Landrace Sativa from Mexico with another variety of Landrace that came from Colombia . After a year they selected the best females from this mix and crossed them with a male of another Landrace variety from South India. And finally, the result of this hybrid was crossed again with a male Landrace that came from Thailand . All this chain of crosses resulted in the variety of marijuana that we know today as Haze . The first crosses had not been very successful for cannabis seed growers since they were varieties that required a lot of attention and care, and above all, because their flowering process was quite long, reaching 16 weeks. At first it was not very stable and suffered variations, one of them, the well-known " Purple Haze ", where her Colombian profile predominated since it was more powerful and beautiful, although on the other hand it was one of the most faces. So, it seemed like he wasn't going to get very far. However, Neville Schoenmakers preserved the species and began to cross it .
NEVILLE SCHOENMAKERS - The Father of Haze
Neville Schoenmakers is one of the most important characters in the history of marijuana. In fact, the Original Haze strain is sometimes referred to as Neville's Haze . Born in 1957 in Australia to Dutch parents, he started working in a laboratory with illegal substances and had to flee to Thailand for a while before landing in Holland in the 70s There he was able to pursue his two passions: genetics and marijuana . With the varieties that were available at that time from tropical countries such as Thailand, Colombia and Africa, he found that the results were not as expected, since they did not grow in the same way due to the Dutch climate. Indoors and with artificial light they did not seem to improve either. He concluded that the best solution would be to improve his genetics so he traveled to remote places in search of other varieties until he found a stable hybrid. In 1984 he founded "The Seed Bank of Holland ", the first marijuana seed bank in the world where growers could find quality and stable seeds with minimal guarantees. To create strains more suitable for temperate climates and indoor growing and to satisfy his European and American customers, he crossed equatorial sativas with Afghani indica. In a very short time, his seed bank achieved abysmal success exporting marijuana seeds to countries around the world. It is estimated that, in the United States alone, it had 15,000 buyer producers. It was also the first cannabis business to advertise and advertise in the media, and along with other articles that spoke of its achievements, this was even more successful. The High Times Magazine baptized him as " The King of Cannabis " and as if he wanted to honor that appointment, he moved into a mansion
which was nicknamed " El Castillo del Cannabis " where it had rooms dedicated only to the cultivation of cannabis. He is considered the father of the original Haze adored by sativa lovers around the world, and is credited with creating award-winning and well-known strains such as: Nevil's Haze, Northern Lights Haze, Super Silver Haze, Nevil's Skunk, Super Skunk, Silver Pearl, Silver Haze, among others.
NORTHERN LIGHTS - THE MEDICINAL VARIETY
With the cannabis seeds that Sam the Skunkman provided Neville, only for his crosses with the prior agreement not to commercialize them - something that would later lead them to antagonize - he obtained different crosses that he himself named as plant A, B , C, D and E. From the Haze A and Haze C males he got one of the most important and well-known hybrids today: Northern Lights # 5 . The original strain was mostly indica, grown in the Seattle area, and was a cross from Hawaii to Afghanistan. As on many occasions throughout the history of marijuana, it came camouflaged to be sent by ordinary mail to Holland , in the form of a cutting and with the leaves trimmed to pass unnoticed. For indoor growing of indica strains , Northern Lights was a great inspiration and his F1 Northern Lights 5 X Haze hybrid is still one of the most acclaimed of the modern indica lines of marijuana. From the 80s to the present, continues to receive awards at the Cannabis Cup between others. It should be noted that this variety of marijuana gave way to many of the modern medicinal varieties that are very popular today and Neville has always been linked to those healing and therapeutic properties of this line of marijuana. In fact, after 25 years of silence and living in the shadows, it seems that Neville returns to dedicate himself to something that had always aroused a lot of interest: medical marijuana.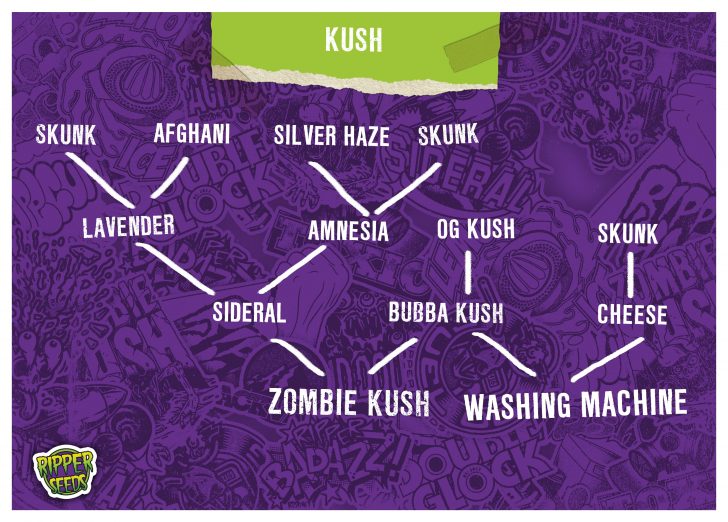 Discover our HAZE strains at Ripper Seeds
RIPPER HAZE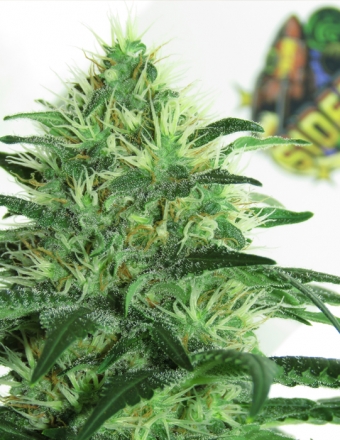 Sideral is one of our first works which we later used to develop Zombie Kush An ancient Lavender Kush clone was pollinated by our brilliant Amnesia. The objective was to achieve a hybrid with a wide and intense range of aromas and flavors. Sideral has a slightly sativa structure with compact flowers and large calyxes. Its flowering period is around 65-70 days. During this time it will reach twice its initial size. Its production is medium-high. The sidereal effect is powerful but manageable. An ideal strain for the regular consumer of marijuana who wants to enjoy a good palate.